Trending...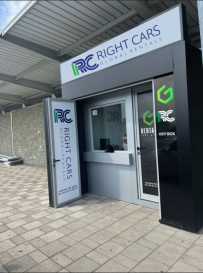 Car Rental Services in Albania just got a major boost as TL International Group announce the opening of its new outlet at Tirana Airport in Albania offering a first-class service both to tourists and business travellers.
BRIGHTON, U.K.
-
eTravelWire
-- TL International Group Ltd announce that it has commence car rental operations at Tirana airport in Albania as part of its 2023 Right Cars expansion. Based just 50 meters from the arrivals exit, renting a car from Right Cars is quick and efficient.
Mr Little, Co-founder and Company Chairman Spoke about the future "TL International Group are committed to investing in the car rental industry and this new branch at Tirana Airport is just one of many new locations for 2023 where both regular and new customers can rent a vehicle from Right Cars.
It has been my pleasure to spend the last few days here in Albania, working with Gjin and Blerta whilst they and their team make the final preparations for opening the branch. They have done a fantastic job in securing the premises about 50 metres from the arrivals exit doors, making it exceptionally easy for customers to find the office quickly and easily.
More on eTravel Wire
Operating a varied fleet of new vehicles, the operation at Tirana Airport can meet customer demands and expectations they expect of their rental experience.
I wish Gjin and Blerta every success in their new business venture and formally welcome then to the family of Right Cars."
Gjin added the following comments, "Its been great working with Mr Little these past days, his knowledge of the industry is amazing, we have learnt such a lot in just a short few days. The most exciting part, something very unusual, as normally it can take days sometimes months, we started to see booking coming in whilst having a last dinner together before Mr Little departed, Amazing. We are pleased to be part of the Right Cars Network and thank all involved for their energy and knowledge in making our new venture a success."
Right Cars Vehicle Rental Celebrated 10 years of continued growth and success. Many of the reservation supply channels where represented at its final celebration on the island of Crete. As Right Cars moves in to its eleventh year it has enormous expansion plans offering possibly one of the most cost effective and attractive
franchise
or affiliate opportunities in the industry and suoorted by some of the top supply channels in the industry. Anyone wishing to join our network or family please email us urgently franchise@right-cars.com
More on eTravel Wire
Key Opportunities in the UK, Heathrow , Gatwick, Stansted and other great countries such as France, Poland, Latvia, Denmark, Norway and many more
Source: Right Cars
---
0 Comments